Attention To Quality
Leather

Sourced from the best tanneries in Italy, Spain and Argentina - our bovine and goat leathers are curated with an aim towards wrapping your feet in luxury.

Footbed

We believe our footbed to be the best in its class because we are fully invested in your comfort. With Anothersole, you'll feel like you're walking on clouds.

Sole

We chose rubber for its natural characteristics of providing traction and flexibility which leads to unparalleled comfort and freedom of movement.
Fits on all occasion
Frequently Asked Question
Is shipping free?

Yes! We ship for free to these 6 countries (no minimum purchase needed)
- United States of America
- Australia
- Hong Kong
- Philippines
- Malaysia
- Singapore
For more information, you can refer to Shipping & Delivery

Do I need to size up or down for different type of leather/material used?

Different leathers have different characteristics which in turn gives a different feel. This difference is what is generally perceived as having a smaller/larger cut but the design of our shoes between sizes are the same as we only have one design.

As long as the length and width matches your foot, we advise allowing the leather to stretch to fit.

Will a limited edition style be restocked? Any chance will it be making a come back?

Only our classics (Lucie II, Luisa II, Trixie II & Holly II) will continuously be restocked. Typically once we run out of limited editions they will never be restocked. Only on rare occasions are we able to procure enough material for a second batch.
What others are saying
Customer Reviews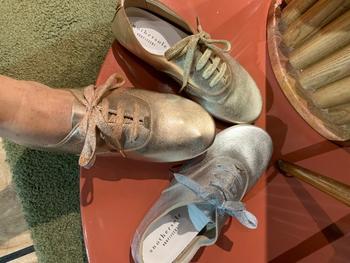 11/19/2019
Great shoes that brought me from work to evening
So happy with this pair of Rose Gold Anothersole shoes. Great for work, social and travelling. Simpy ....love it!
06/26/2020
Grateful Feet!
super comfy, airy, lightweight shoes that kiss your soles!
Tracey C.

United States
06/14/2020
Comfortable and convenient
I have always have bad experience with shoes since young as my feet tend to be on the flat side and my skin is quite delicate. So I am pleased to not experience any painful blisters or a sore feet when wearing the shoes. Moreover, the shoes are quite compact and does not take much space in your travel backpack or suitcase.
Jocie L.

United States
02/06/2020
2nd pair and counting
Great for whatever attire you wear and good for walking.
12/14/2019
Tricia-Rose Gold
It's sooo comfortable! Totally love it!
Jessica R.

Singapore
12/02/2019
Really comfortable!
Have enjoyed wearing my anothersole shoes these past few weeks since I received them in the mail! Very comfortable for walking/ standing around.
Eunice W.

Singapore
11/25/2019
Pretty shoes for Xmas!
Super comfy! 2 thumbs up!
Gwen C.

Singapore
10/12/2019
No more painful bunions!
Satisfied with the first pair (navy blue), I recommended my sis to your brand and she bought 2 pairs at one go! I myself bought the 2nd pair (rose gold). Very comfortable (no more painful bunions)!
05/04/2019
AFI
Comfortable shoes however the delivery service needs to improve. I have stated to have the delivery done during office hours before 6pm, yet the man came after 6pm and just left the item on the table in the office (no one was there at that moment) and left.
Kelly T.

Singapore
12/19/2018
First pair, definitely not the last
I wish i had bought a pair of shoes when i first saw it some time earlier this year. Because this shoe is so damn comfortable!! I mean, its lightweight, it's good for long walks and it's in my absolute favourite colour, ROSE GOLD!!!! What's not to love, seriously. I'm definitely purchasing another pair. Also, a pair of full leather shoes at such affordable price, it's definitely a win!
Jolene H.

Singapore
Follow On Instagram
#myanothersole
Follow @anothersolegirl on instagram and share your anothersole experience by hashtaging #myanothersole to be in the chance to win $50 credit.
Follow On Instagram