Paloma - Zulu White
Free Express Shipping

Free Exchange

40% off any 2nd pair
Description
Description
100% Spanish Full Grain Bovine Leather

.

Luxuriously soft and supple feel

.

Light grain texture with natural finishing.

Matching fabric laces and outsole.

Breathable sports footbed material giving maximum support for long wearing comfort.
Problem Solved!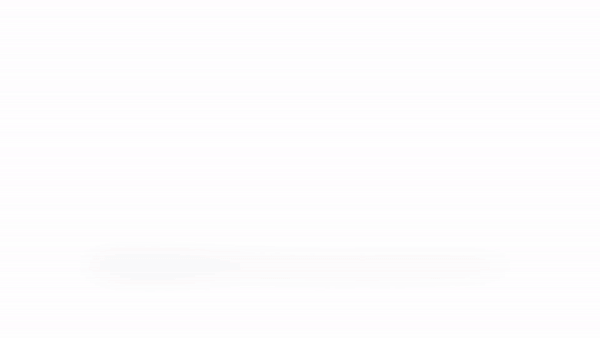 It's insanely difficult to find comfortable shoes which looks great.
It seemed we were destined to either accept pain for good looks or have comfort but look like your grandma. (FYI - We love grandmas and they're loving our shoes too.)
Sneakers/runners are comfortable but they're not occasion appropriate.
Why can't we have it all? We simply couldn't find anything that fits the bill.
So we decided to build it ourselves.
Our shoes weigh 280g, less than a canned drink. It's soft and breathable like your second skin.
Every shoe hides an ergonomic sports engineered footbed that readily absorbs the striking impact as you get through the day. You will feel its worth at the end of a long day of walking.
We took our time to build the best shoe we had envisioned. It took us 3 years of prototyping and fit testing, countless do-overs and user reviews before we decided it was good enough for the market.
And the market loves it as much as we do.
10 Reasons why you need them
They are everyday essentials. You will wear them because they are addictive.
They pair well with almost everything. No more wardrobe dilemmas.
They breathe...well you know what happens when shoes don't breathe
280g - that's really really light.
Flexible soles reduce strain on your feet.
Soft leathers caress your feet in comfort.
Ergonomic sports footbed allows your feet to get through the day with less strain.
Fantastic quality at sensible prices.
Flat packs - great for travel.
Help feed a child with your purchase.
Peace of Mind
We provide free express international shipping & returns so you can shop with peace of mind. Need to size up or down - no problem.
We pay for the shoes to be sent back to Singapore using DHL Express. They will ship your replacement shoes for free as well! We seek your understanding that this service is limited to one return per order.
Our shoes need to be returned in its original condition with the box and tags intact.
For full details - see FAQ.
Attention To Quality
Leather

Sourced from the best tanneries in Italy, Spain and Argentina - our bovine and goat leathers are curated with an aim towards wrapping your feet in luxury.

Footbed

We believe our footbed to be the best in its class because we are fully invested in your comfort. With Anothersole, you'll feel like you're walking on clouds.

Sole

We chose rubber for its natural characteristics of providing traction and flexibility which leads to unparalleled comfort and freedom of movement.
Fits on all occasion
Frequently Asked Question
Is shipping free?

Yes! We ship for free to these 6 countries (no minimum purchase needed)
- United States of America
- Australia
- Hong Kong
- Philippines
- Malaysia
- Singapore
For more information, you can refer to Shipping & Delivery

Do I need to size up or down for different type of leather/material used?

Different leathers have different characteristics which in turn gives a different feel. This difference is what is generally perceived as having a smaller/larger cut but the design of our shoes between sizes are the same as we only have one design.

As long as the length and width matches your foot, we advise allowing the leather to stretch to fit.

Will a limited edition style be restocked? Any chance will it be making a come back?

Only our classics (Lucie II, Luisa II, Trixie II & Holly II) will continuously be restocked. Typically once we run out of limited editions they will never be restocked. Only on rare occasions are we able to procure enough material for a second batch.
What others are saying
Customer Reviews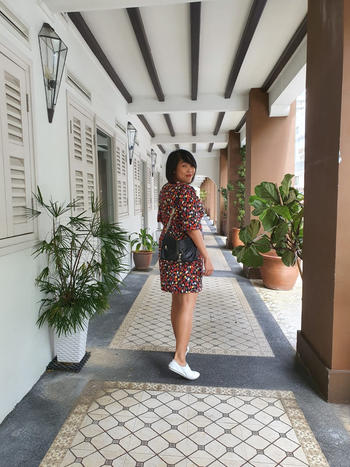 03/15/2020
Quality and super comfy shoes
Am loving my pair of Another Sole so much. The soles were soft yet provided good support for my feet. The soft leather also did not give me any blisters on the back of my ankles. Love this product and I can't wait to get more!
Charlotte L.
Singapore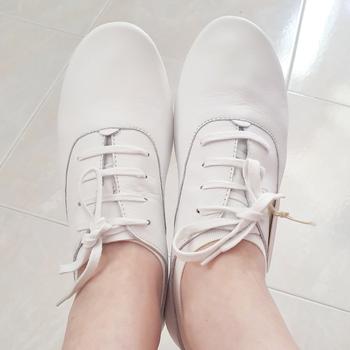 07/25/2019
80% perfect for me
Disclaimer: I have hideously fussy feet; flat sole, wide width and skin that blisters / gets cut easily. It's very difficult to find shoes that I can wear. I was very hopeful since there are so many good reviews. Indeed, the Paloma leather is deliciously soft. I've never worn a covered shoe that didn't give me blisters or cuts on the first wear, so I was very impressed. After quite intense walking, I got a hint of an abrasion, but the skin never broke. I take it as a win. This really is top quality leather. I did find the soles to be a little thin. They are very comfy, but to hold the title of "best travel shoe", I would expect to be well supported enough to *not* feel the gravel under my feet. I imagine that this would not be supportive enough for a full day of walking, and I really hope that the next version of this shoe would have a thicker, more supportive base. Also, I have wide feet, and I do get some pinching on my little toe and also my big toe. Perhaps the leather needs more time to stretch, but I wish there was a wide soled option. I'm sure that would be immensely popular. Maybe Another Sole could consider offering this for their best selling designs? If they did, I would buy soooooo many pairs. On the whole, a wonderful pair of shoes. If you don't have fussy feet like me, then this will be the shoe of your dreams. It came so close to being perfect for me, but fell short due to the reasons listed above. As it is, I will treasure this pair, but will probably only wear it for special occasions where I won't be walking a lot. Still on the hunt for the perfect travel shoe (Could it be Paloma II? *fingers crossed*)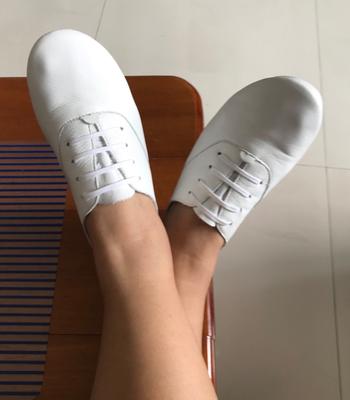 12/15/2018
I ♥️ Paloma
I loved my dove grey Paloma so much I needed to get it also in Zulu White! The leather is super soft with enough structure to prevent the heel portion from collapsing. Have been a client since inception. Generation 2 is even more comfortable. ❤️❤️❤️
Anna B.
Singapore
10/18/2020
Great purchase as always
Love these shoes! Got three pairs and counting ☺️
Sara S.
Australia
04/10/2020
Mad love this!
Paloma is one of the best amongst the range. Super Soft, lower cut at the back and very comfortable. My 12th pair and counting.
Brenda W.
Singapore
02/28/2020
Great shoes, almost perfect for me.
I love everything about this pair of shoes, but especially that slim fit look which goes well with both dresses and pants. The only negative I can say is I ordered my usual size 38 but found it was too small and had to exchange it for one size bigger, which works so that's okay. Another point for consideration would be the heel part of the shoes does not fully cover my low cut socks.
Eugenia T.
Singapore
02/06/2020
Comfortable & light!
I got my first pair of shoes after reading and hearing so much good reviews. Definitely doesn't disappoint! I have pretty wide feet, and looking for comfortable and it's not easy to find one that's suitable. Love the shoes! Will be back for more soon!!
MICHELLE T.
Singapore
01/17/2020
Comfy
I have progressive flat foot so I'm very picky about shoes. Too flat and my feet will be in pain followed by backache. I was very skeptical when my colleagues told me how comfy it was, and that I should try it out. And I was not disappointed, the sole is arched hence giving support and its incredibly lightweight. I am so grateful to Anothersole for creating such wonderful shoes that I could walk around all day. Definitely gonna bring it overseas with me! The lady attended to me in Funan was super nice and friendly too, she share her knowledge on how to maintain the shoes and I asked her many questions which she answered honestly and patiently, most importantly, she is always smiling. One pair is juz not enough, seriously
12/30/2019
My 2nd pair of Paloma
My 2nd pair of Paloma - Zulu White. Very comfortable.
Sally G.
Singapore
11/23/2019
Shoes that do not bite!
I have flat feet and straight heels, it is difficult to find a shoe that dont bite. And i found it!
bixiayeo
Singapore
10/16/2019
Super awesome
True to size and comfortable. Looking forward to carting more pairs already.
Wendy X.
Singapore
09/19/2019
Paloma - Zulu White
Awesome, light and the best travel shoe.
Junaidah S.
Singapore
07/07/2019
No regrets at all!
This is my first pair and it won't be the last. It's very comfortable, not much breaking in required. I have fat feet and bunions so buying comfortable shoes is very important to me. I often get blisters at the back because of the way my leg bends backwards but the shoes are soft and kind to my feet. Love them!
Evelyn T.
Singapore
06/11/2019
3rd pair - and don't plan to stop!
It has literally turned into my Everyday shoe - everything matches and it's so comfy!
Sylvia T.
Singapore
05/22/2019
Fast delivery. Shoes go with
Fast delivery. Shoes go with almost every outfit - work & casual. However, does take some wearing to loosen the fit especially for my broad feet. Hope to have a wide fit line some day!
Pamela L.
Singapore
11/12/2018
Lovely pair of whites
Lovely! Fitting and great protective feel for the great too
Jessica F.
Singapore
04/03/2018
Comfy shoes!
So far it's been great! The leather is so comfy and soft that it does not give me any blisters or abrasions against my skin. The design of the sole also supports my feet (i've got slightly high arches) so they don't feel uncomfortable by the end of the day. Already ordered a second pair! :)
Jiawen L.
Singapore
03/26/2018
Quality and style.
Extremely comfortable. I wear it everywhere!
Genevieve O.
Singapore
03/19/2018
Good sole upgrade
I prefer the new sturdier sole and the thicker and softer laces. Only hiccup is that the laces are a little too long and the tips tend to stick into the shoe causing some discomfort while walking.
Ru S.
Singapore
03/16/2018
Super comfy!
This is my 3rd pair and i'm so glad the sole has been improved! Definitely will buy more in future! Looking forward to more colours and design!
Hui S.
Singapore
Follow On Instagram
#myanothersole
Follow @anothersolegirl on instagram and share your anothersole experience by hashtaging #myanothersole to be in the chance to win $50 credit.
Follow On Instagram